Artificial Grass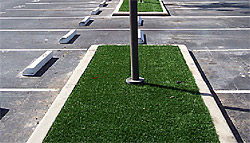 Artificial grass became popular because of its unbelievable performance in high-activity areas like sports arenas. While real grass can be grown for football and other arenas, it can never surpass the low-maintenance, durability, and aesthetic qualities of artificial grass. And due to these qualities, artificial turf is now being used even beyond its usual applications.
Incidentally, residential and commercial yards are shifting from using maintenance-hungry natural lawn grass to the more economical artificial grass. This is the reason why many landscaping companies in Florida include artificial grass installation in their services. But, Dreamscape Synthetic Grass & Pavers is different from them all.
Partnership with the Best Turf Manufacturer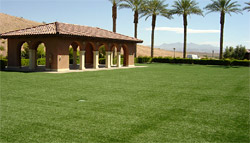 Not all artificial turfs were created equal. Some are simply real disasters while others are the real cream of the crop. Of course, we only choose to be in the latter; otherwise, we can never render our promised quality of service. For that, we only rely on the manufactured grasses by Challenger Industries, Inc.
Challenger is the company behind EnvyLawn and DuraPlay. Each brand targets different niches, but both of them represent high-quality products that we use in our artificial grass installation service. That's what you should expect from a synthetic turf company that has been doing business since 1983. And, as always, their huge product catalog will surely have the perfect artificial grass for your specific needs.
Problem-free Artificial Grass Installation
Some may think that the installation of synthetic grass is as easy as laying down a mat - but it's definitely not the case. A lot of DIYers have encountered costly problems simply because they thought the same.
The task requires more than just the perfect artificial grass to complete the installation. Other supplies like aggregates, adhesive, and sand are also necessary; and, don't forget the needed set of tools like cutters, shovel, rake, and brooms to complete the job. There must be a plan, too, so as to see potential problems and solve them as soon as possible.
If you do it yourself, problems usually occur such as poor drainage, variance, and unstable installation. Sometimes, the artificial grass is cut too short than it should be because of inaccurate measurement. Another problem is the poor quality of synthetic grass. Since Florida sometimes experience hot weather conditions, it is better to choose UV protected layers or turf made with durable materials such as nylon.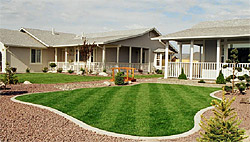 These problems will never occur if you hire the experts in artificial grass installation - Dreamscape Synthetic Grass & Pavers. We have the best products and highly trained people who can do the job to perfection. Our company also has enough manpower to do any installation of artificial grass, whether it is for residential application or for a commercial one. This way, variances in the installation will never happen.
Big or Small Turf Installation, We Do It All
Wherever you are in Florida, Dreamscape Synthetic Grass & Pavers can provide you prompt and excellent installation of artificial grass. It doesn't matter whether you'll need it for a kiddies putting green or for a school's large sports field arena - we have all fronts covered.
Our team is always ready to install the smallest or the biggest synthetic lawn field in the state. This way, everyone can enjoy the beauty, easy maintenance, durability, and other great benefits of having artificial grass in no time as long as the job is left to the Dreamscape Synthetic Grass & Pavers team.