Custom Stone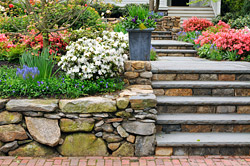 Natural stones will never fade in popularity because of their unique beauty, diversity, and durability. Architects and landscape designers are continually being enthralled by the beauty and elegance of stones when used in a structure, which is why most of them use custom stones in their home construction and landscape installation projects.
You, too, can get the benefits of natural stones - just hire us if you want to transform your drab-looking property into an eye candy by just using customized stones. Dreamscape Synthetic Grass & Pavers is both knowledgeable and skilled in customizing stones.
The process of customizing stones is complex, so it should only be done by an experienced company like Dreamscape Synthetic Grass & Pavers. We have been installing custom stone projects in Florida for various residential and commercial purposes, so you are guaranteed positive results.
The Master Craftsmen of Custom Stones in Florida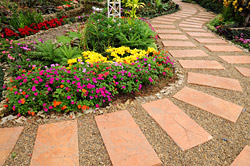 Custom stone work can dramatically improve the value and aesthetics of residential and commercial properties alike. This is especially true if you will be using stones like granites, limestones, marbles, and slates. With custom stonework, you can build structures that will perfectly reflect your personal taste for beauty and elegance.
But, you can only get the most from custom stone if you will let master craftsmen do the technical work. Keep in mind that there is a huge difference between the works of an inexperienced contractor and a highly skilled one.
Accordingly, some of the incomparable works of Dreamscape Synthetic Grass & Pavers when customizing stones are evident in the high quality of stone selections, their well-polished edges, accurate stone dimensions, exact undercutting, and perfect underside finish. Moreover, these natural stones are only sourced from reputable quarry companies in the state to ensure top notch quality.
But, our services do not end in providing perfectly customized stones. We also guide our clients in stone selections to achieve the best results for the project. We likewise use the latest technology to ensure that dull areas or horizontal lines are eliminated. With the careful process that our company follows, our customized stones do not show any sign of inferior quality work.
Different Uses of Custom Stones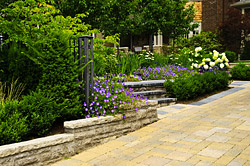 There are practically endless applications for custom stones. Its common application is on kitchen and bathrooms, but custom stone can also be used in other parts of the home or landscape elements. Below is a list of other possible applications of custom stone:
Indoor/outdoor fountains
Fireplace mantels/surrounds
Accent for stairwells and walls
Reception areas
Restaurant counters
Interior/exterior walls
Dining table tops
Shower surrounds
Facades and as veneers
The lists of custom stone applications are nearly endless. The fact that there are several types of stones that can be customized make the applications of these stones more diverse.
Stones Customized for Florida Clients
If you have projects that involve the use of custom stones, then call Dreamscape Synthetic Grass & Pavers today.
Our team is composed of skilled and knowledgeable people who can install custom stone works with a high level of craftsmanship. Our company is also equipped with the right tools to create perfectly designed custom stones to guarantee the quality of our works.
The previous projects that we have completed for Florida homeowners and commercial owners are proof of our reliability and competency. Feel free to check them!