Outdoor Kitchen & BBQ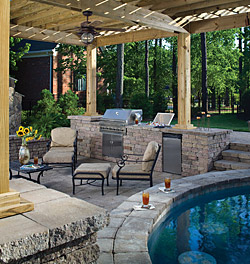 One of the best additions in any landscape is an outdoor kitchen and BBQ. Accordingly, there are a lot of outdoor kitchen and BBQ designs that Florida homeowners could choose from. It could range from the traditional kitchen to a fully equipped outdoor kitchen. The final choice would still depend on the need and preferences of the homeowner.
Common Designs for Outdoor Kitchen and BBQ:
One of the most preferred outdoor kitchen and BBQ designs is the commercial type. This design features refrigeration, customized storage space, oven, dishwasher, and grill. This outdoor kitchen and BBQ design is perfect for homeowners who need to perform a lot of cooking chores at the same time.
There are also some designs using geometric shapes. The U-shape outdoor kitchen usually features fire pizza oven, cooktop, sink, refrigerators, drawers, and grill. This is also ideal for multi-tasking homeowners who love to whip up delicious and mouth-watering home-cooked meals for friends, family, and guests.
Another popular design for an outdoor kitchen and BBQ is building it under a pergola. This is usually highlighted by elegant stone or granite walls, marble or granite counter tops, and kitchen basics such as grill, refrigerators, drawers, and the like.
Sprucing up Your Outdoor Kitchen and Barbecue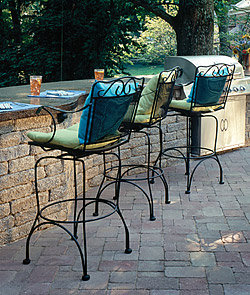 If you think that these designs and amenities are more than enough, we at Dreamscape Synthetic Grass & Pavers tell you that we could provide more amenities for your outdoor kitchen and BBQ. Such additions will not only make your outdoor kitchen and BBQ more functional but will also make it more elegant.
Accordingly, among the wonderful and beneficial add-ons that Dreamscape Synthetic Grass & Pavers could offer to clients include top of the line refrigeration units, well-designed and - appointed bars, state of the art grills, artisan pizza ovens, ice maker, wine chiller, mini bar, automatic dishwashers, commercial-type sinks, custom storage spaces, and even uniquely designed fireplaces and fire pits!
The Dreamscape Synthetic Grass & Pavers Advantage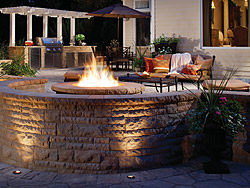 With a lot of other outdoor kitchen and BBQ installers in Florida, it is all too easy to be confused as to which you should choose for your landscape. However, we dare say you should not burden yourself anymore. We have a lot of wonderful advantages over other landscape companies in the areas that we serve.
For one, Dreamscape Synthetic Grass & Pavers only uses the best materials for your outdoor kitchen to ensure it will last for years. We source such materials only from the best and most trusted landscape material suppliers in the industry so you're guaranteed to enjoy your outdoor kitchen and BBQ for a long time.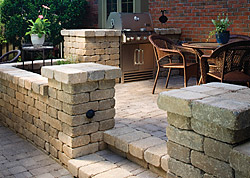 For walls, we use high quality bricks and stones to achieve an elegant and classic outdoor kitchen look. These materials effectively enhance the overall appeal and build integrity of your outdoor kitchen and BBQ.
We also add roofing to make your outdoor cooking more fun and more enjoyable since you're protected from the elements. And of course, we only employ the best and most skilled people to carry out our outdoor kitchen and BBQ installation projects.
With all these wonderful benefits and advantages, you will surely find it more than worthwhile to hire Dreamscape Synthetic Grass & Pavers's services. Call us today and let us design and build the perfect outdoor kitchen and BBQ that you and your family will definitely enjoy.