Paver Clean & Sealing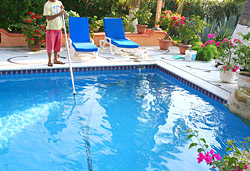 No matter the quality of paver surface materials or paver installation, your paver requires some amount of maintenance in order to look good. If someone told you pavers are maintenance-free, they were lying. Pavers accumulate dirt, stain, weeds, and moss over time.
If your hardscape has become dirty, you need an experienced and professional paver cleaning company who can take care of the dirt, grime, and weeds without damaging the paver surface.
At Dreamscape Synthetic Grass & Pavers, we specialize in cleaning and sealing of concrete pavers for residential or commercial properties in Florida. No matter how old your pavers are, you can rely on our expertise to restore its look, bring back its color, and make it look like new again.
Additionally, when you choose Dreamscape Synthetic Grass & Pavers for your paver cleaning and sealing needs, you get the experience and expertise of a company that has cleaned, restored, and sealed hundreds of thousands of square feet of paved entryways, driveways, pool decks, courtyards, and other hardscapes.
Paver Cleaning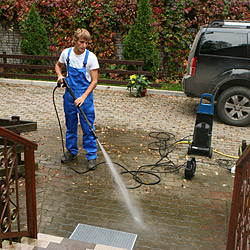 To keep pavers in their prime condition, they should be cleaned and sealed at least every two or three years. Paver cleaning removes stains, dirt, debris, and other natural contaminants that may be present on the surface.
Dreamscape Synthetic Grass & Pavers uses state-of-the-art pressure washing system that allows us to speedily power wash all surfaces. We chemically treat irrigation rust stains, mold, grease, spills, oil, and the like with different kinds of detergents and efflorescent removers. Also, we only use chemical treatments that are tested efficient and safe.
Simply put - our trained paver cleaning specialists will take care of your property and bring it to new life.
Paver Sealing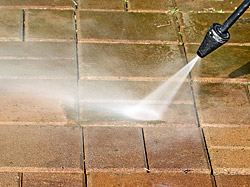 Paver sealing is the process of applying sealants to the surface of your paver hardscape. The sealant is applied after the surface has been thoroughly cleaned and sanded. Accordingly, paver sealing is important for a number of reasons, including:
Enhance appearance: Sealants enhance the natural colors of hardscape pavers.
Added Protection: Sealants protect the surface from stains and spills and even corrosive substances (e.g. acids). They also deter weeds from growing between the joints.
Ease of Maintenance: If spills and stains occur, sealants make it easier to clean and maintain your hardscape.
Preserves Pavers: Paver sealing protects your pavers from fading by blocking harmful UV rays. It also prevents efflorescence (the powdery substance that forms on the surface of pavers).
Track-free surface: Paver sealing prevents unsightly tire tracks.
Our clients will only get the best sealing services from us because we only use the best paver sealants on the market. Our sealants can protect your hardscape from all kinds of damaging elements, including UV rays. We also have different kinds of high quality sealant, so you can get the finish that you prefer.
The Experts in Paver Cleaning and Sealing
Paver cleaning and sealing is a multi-step and meticulous process that is best left in the hands of experts. This is because attempting to clean and seal your paver on your own could lead to disastrous results.
Tri-State has been providing paver cleaning and sealing services for those who want to keep their pool decks, walkways, driveways, patios, and other hardscape pristine-looking and attractive. Whether you have newly installed or old pavers needing protection, we guarantee that you will get the best results.
Contact us now for a free estimate.