Outdoor Furniture
Experience Outdoor Living Comfort like Never Before!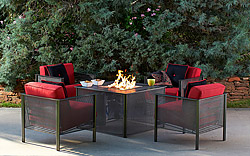 Dreamscape Synthetic Grass & Pavers is a proud distributor of Woodard Landgrave Furniture, Accessories and Lighting. Long known for their durability, comfort and beauty, furnishing your patio or deck with Woodard Landgrave also adds value with quality that lasts!Choose from our many patio table options available from Solid Cast Table Tops, Cast Stone Table Tops, Extruded Aluminum Table Tops and more!
Our products include a wide selection of Dining Chairs, Bar and Counter Stools, Chase Lounges, Lounge Chairs and Ottomans. All available in a wide variety of Crypton Fabric, Joe Ruggiero Fabric and Designer Fabric options. Coordinating your dream outdoor living space has never been easier. Whether you're looking for a Love Seat, Bench or Outdoor Sofa to complete your dream backyard, we have it in a design you will love!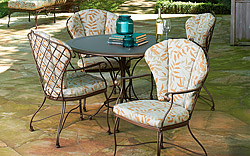 Woodard craftsmen have designed and manufactured products and accessories "loyal to the timeless art of quality in furniture design and construction" for over 140 years. Using the latest high-tech manufacturing process as well as the age old art of hand forming, Woodard is committed to creating products that will provide years of enjoyment. Offering a variety of products from Wrought Iron, Aluminum and All Seasons Wicker, we provide a wide array of collections that will certainly suit any taste, from traditional to contemporary. Our products are sure to add comfort and style to any outdoor living space. With designs, materials and construction far surpassing the industry standards. Woodard creates beauty and durability that is unparalleled.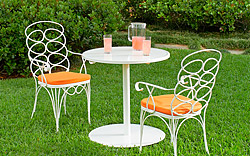 Dreamscape Synthetic Grass & Pavers is committed to not only helping design and build your dream outdoor living space, while providing services ranging from Synthetic Grass and Putting Greens, Beautiful Paving Stone Patios & Walks and Outdoor Kitchen installations, we can help fill in the missing elements with finely crafted outdoor furniture to make your outdoor living space elegantly complete!
Please call us today for a free consultation at 850-258-3800 or click the link to view our complete selection at Woodard Landgrave Furniture!