Pavers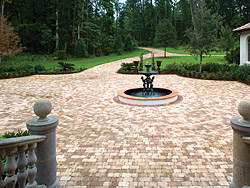 As artificial grass installers we are expected to be an expert in this field - and we are.
But, we don't stereotype ourselves the way our competitors do. Sure, we are experts in synthetic grass installation but we can also do a lot of other things that will complete any landscaping needs. Installing pavers, for instance, is also one of our offered value-for-money services.
Durability and Flexibility of Pavers
There's no doubt that concrete, wood, and other construction materials are still quite popular in Florida landscape. But, many homeowners have finally discovered the wonders of elegant hardscape elements. Pavers, as a result, are now the most preferred landscaping materials in many residential and commercial landscapes. And that's for some good reasons.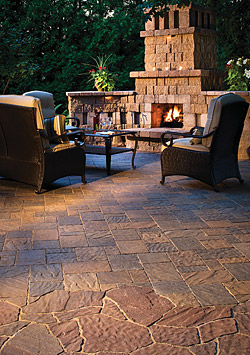 For one, pavers guarantee durability and beauty at the same time. That's why paver installation is often regarded as a delicate masonry work. Superior craftsmanship is required to ensure the paved surface will last for generations. The secret is not only in the quality of manual work, but also on the quality of pavers.
Each paver piece is thick enough to handle even the most brutal beating. That's why pavers are perfect for the driveways. Another good thing about pavers is that they have spaces in between them, allowing flexibility and movement with the soil. While slabs of concrete usually develop cracks after a few years, the paved driveway will remain crack-free even for decades.
Aside from these characteristics, they also remain intact even in a freeze-and-thaw condition. This makes them at least three times stronger compared to concrete slabs. Pavers are also low maintenance paving materials. They might require replacement at times, but the work will only involve affected pieces and not the entire area.
The Unmatched Beauty of Pavers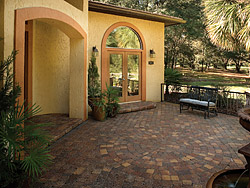 Pavers are often thought to be man-made, but there are also natural pavers, like natural stones. These are nature-made, but artificially-polished. What's great about natural stones are their innate beauty and color that will never fade. Being natural makes them the perfect compliment for a landscape.
Manufactured pavers can also easily blend in with the landscape. Clay bricks, which are among the first pavers, are durable and provide a classical look that's flexible enough for any landscape application. Additionally, it's not necessary to settle on the red or brown brick paver colors. More modern pavers are now available in variety of shapes, sizes, colors, and patterns.
You can opt for the red monochrome for the driveway and have pavers with red and brown combination for the retaining walls. Pavers are not anymore just for edging the plant bed because they can also be used to highlight an area with the various paver patterns.
Reliable Paver Installation by Dreamscape Synthetic Grass & Pavers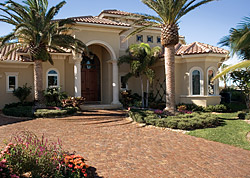 With such qualities, it's understandable how everyone can easily fall in love with a paved surface. But, to ensure utmost creativity and the finest quality work, paver installation must only be done by professionals like Dreamscape Synthetic Grass & Pavers.

Our team is one of the few reputable installers of artificial grasses that offer different but related services like paver installation. We also have highly creative designers who continuously satisfy our clients with their awe-inspiring creations. Plus, we have trained and experienced masons who continue to deliver quality paver installation services to our clients' delight.

Many residential and commercial landscapes in Florida have looked and performed better with our touch of expertise. It is time for your landscape to be improved with the best pavers, too.

Introducing our elegant collection of interlocking concrete pavers.