Water Gardens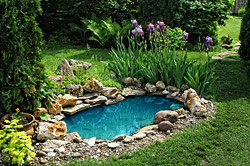 Florida boasts a wide diversity of flora and fauna. And no kind of water feature can perfectly compliment such a wonderful environment like water gardens.
Compared to the usual man-made water features, a water garden is filled with bloom, beauty, and balance. Having one in your backyard is like having a mini ecosystem, complete with plants, animals, and the perfect environment.
It is more than just relaxing. It can truly be rewarding.
Enchanting Landscapes with Water Gardens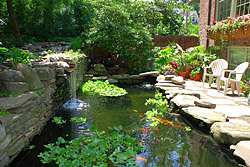 It will be a shame to live in the beautiful state of Florida and disregard its natural beauty. This beauty can't only be appreciated but can also be displayed for everyone to see - in a water garden.
Water gardens allow combination of different flora - from wild and wide weeping willow to the smallest variety of water lilies. They will display your exquisite taste plus your plant-taming skill. But, that taming skill will be much more evident if the fauna is added to the ecosystem.
Taming animal species like fishes, snails, crustaceans, and even birds will require more work, but will also be more rewarding. With them, the water garden will be teeming with life and vibrancy.
Accordingly, you will be responsible for the life that will thrive in the water garden. That is why its design is a very crucial part of the process - it must be perfect and in accordance to your preferred level of work and desired style.
This is actually the tough part because the diversity of flora and fauna in the state offers a limitless possibility. But, with us, designing water features will be just a walk in the park.
Choosing the Right Design for Water Gardens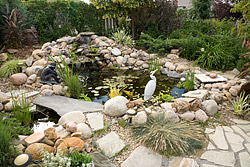 Water gardens should never be as cluttered as a chaotic rainforest. They are man-made, and therefore, their design and build can be dictated by your taste. At Dreamscape Synthetic Grass & Pavers, we can design and install water gardens following the three general classifications: formal, semi-formal, and informal.
Informal water garden installation is the easiest because it's an anything-goes type of garden. You don't have to worry about symmetry, balance, or overall style, since the aim is to resemble the surprising and imperfect look of natural water features.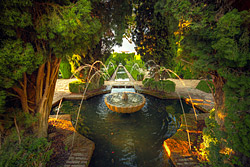 Sophistication can only be achieved with formal water gardens, making them the best choice for architectures with that hint of classical and Mediterranean pedigree. Such style is often seen in public theme parks, but since it aims for perfection, this style can be quite a challenge.
The semi-formal water garden installation, as its name implies, is the fusion of formal and informal. It may not be as strict and perfect as the formal, but it's definitely not as chaotic as the informal. The pond can have the perfect shape and size, but the plants can be loosely chosen. That is one example of a semi-formal class.
Get a Beautifully Designed Water Garden
Everyone will agree that designing the perfect water garden is one of the most difficult landscaping projects because of its sensitivity. But, good thing Dreamscape Synthetic Grass & Pavers has already completed numerous design and water garden installation jobs in Florida.
Every project we do is finished with quality and beauty in mind. Whether big or small, we ensure that all water gardens will be the perfect reflection of your sense of style and personality.