Irrigation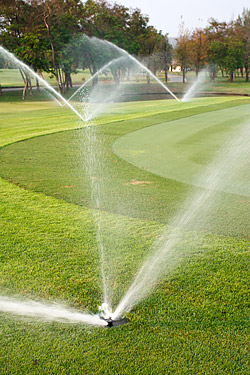 A lush landscape adds a lot of curb appeal. However, keeping a lawn lush and green requires time and effort since you need to make sure it is watered well on a regular basis. But, if you have neither time nor effort, a professionally installed irrigation system can handle the watering jobs and solve your maintenance concerns.
Florida homeowners are lucky because Dreamscape Synthetic Grass & Pavers also specializes in the installation of professional-quality irrigation and sprinkler systems. Keeping your lawn pristine and beautiful are just some of our primary goals.
So, when you want a green and beautiful yard for your residential or commercial property, Dreamscape Synthetic Grass & Pavers is your best option for a properly working irrigation system.
Why Proper Installation of Irrigation System is Crucial
Irrigation systems are automated, hydraulic machines that are buried in your lawn. Because it is hidden from one's sight, the more you need to make sure your sprinkler system will work properly all the time. Dreamscape Synthetic Grass & Pavers has developed the technical skills and knowledge for setting up irrigation and sprinkler systems in all kinds of landscapes.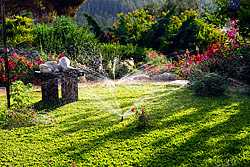 How do we do this? First, we guarantee correct installation of irrigation system right from the start. Our emphasis on quality materials and services has taught us the long-term advantages of adhering to the highest standards of irrigation installation. This is because we understand that improper installation leads to many kinds of lawn problems, including:
Uneven lawn appearance - Some areas of your landscape will look lush and well-watered, while some will look dry and lifeless.
Leaks - Excess water may erode the topsoil and landscape plants. Worse, it could leave sinkholes or depressions in your yard, which could make your landscape look as if it had been washed out by flood.
Unhealthy plants - Leaks also lead to loss of nutrients in the soil, making your lawn less healthy looking. When trees, shrubs, flowers, or lawn grasses are not well-watered, they become more susceptible to infestation and withering.
Moreover, indications of a poorly designed irrigation system include absence of head-to-head sprinkler spacing and position of spray heads in the same zone. But, with several number of years satisfying the irrigation needs of Florida homeowners and business property managers, Dreamscape Synthetic Grass & Pavers already knows how to do it right.
The Experience to Meet Your Landscape Irrigation Needs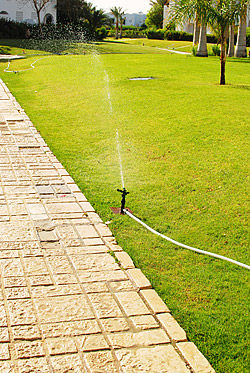 Whether you need someone to install a new irrigation system or fix a current one, you can rely on Dreamscape Synthetic Grass & Pavers to do the job for you.
We custom design and install every irrigation system based on your landscape's watering needs. Our systems are also efficient and worry-free. We put it on auto-pilot, and once running, you can enjoy your vacation without worrying about your lawn, shrubs, and flowers.
When designing your irrigation system, we take into account every detail in your landscape, including soil topography and potential drainage issues. We understand that every yard or lawn is different, and we tailor our design and materials to the conditions and requirements of your lawn.
Our Irrigation Installation and Repairs
When you choose Dreamscape Synthetic Grass & Pavers, you come to a professional team that puts your best interest in mind. You will enjoy prompt and personalized installation, repair, or maintenance of irrigation system from a team of professional and highly experienced technicians who know how to make any softscape fantastic-looking all the time.
Please feel free to contact us for questions about our installation, repair, or maintenance services. We will be happy to answer any questions that you might have.