Bubbling Pots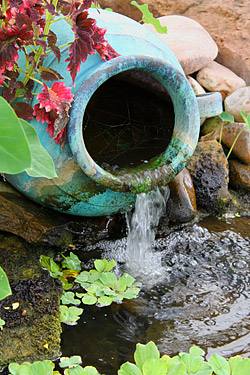 Have you grown tired of looking at your boring landscape that has nothing around it but masonry works, flower pots, patios, and cabanas?
Now, we're not saying that these wonderful hardscapes are not helpful in adding style and functionality to your property - what we're trying to tell you is that you could liven up your stiff-looking landscape by adding some great water features, like bubbling pots!
The Benefits of Bubbling Pots
For homeowners like you who wish to infuse some much-needed aura of relaxation into your property, we highly suggest placing some handsomely crafted bubbling pots in strategic places.
With carefully placed and expertly created bubbling pots, you could instantly turn your lifeless and stiff outdoor into a place full of vibrancy, positive energy, and graceful movement courtesy of the cool, flowing water from your water pots.
As any experienced landscape provider would surely tell you, water features, like man-made mini lagoons, waterfalls, ponds, and bubbling pots effectively turn a dull and indifferent landscape into a soothing and relaxing place where you could just lay back and leave your worries behind.
Let the Experts Do the Job for You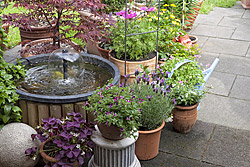 Although some people may tell you that you could install bubbling pots yourself, we still strongly recommend that you leave the job to industry experts, like us here in Dreamscape Synthetic Grass & Pavers.
This is because bubbling pots actually require some degree of technical expertise for them to work well. For one, they have to be installed correctly using standard industry practices. Another is that you should have the necessary materials to have complete and functional bubbling pots. And, most importantly, you should have the required technical skills and tools to do the job correctly and safely.
But, why worry about all these things when you can just let Dreamscape Synthetic Grass & Pavers handle everything?
Dreamscape Synthetic Grass & Pavers employs only highly skilled landscape workers who possess the experience, expertise, and creativity to produce attractive and functional bubbling pots that your family and guests will surely find a lovely sight. We also have a close tie-up with the industry's best suppliers of softscape and hardscape materials so we can guarantee that everything that we place in a landscape project is of highest quality.
Enchanting Bubbling Pots for Your Landscape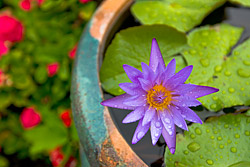 At Dreamscape Synthetic Grass & Pavers, we ensure that we have various pots ready to be transformed into eye-catching bubbling pots, regardless if you prefer a miniature set-up or you want to go for the large kind. And, as we've mentioned, our bubbling pots and accessories are all guaranteed top notch quality to give you peace of mind.
Moreover, we also have a team of creative and skilled installers who perfectly know where to put these additions in the landscape. This assures you that your bubbling pots will improve the overall aesthetic quality of the landscape, and will serve as a haven for rest and relaxation.
So, if you want to have the best bubbling pots installed in your prized property, just call Dreamscape Synthetic Grass & Pavers today. In just a few minutes, we could help you come up with a plan and work with you closely throughout the entire project. Once we're done, we can guarantee you that you'll end up being the proud owner of a relaxing, beautifully-landscaped property.