Fencing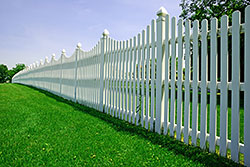 Fences must be built durably so they can deter intruders and burglars while at the same time provide the needed aesthetic lift to any area or property. Given such important functions, it's only right that property owners like you must choose a contractor that has the experience and expertise in installing high quality fencing.
Fortunately, you won't need to go far away – we at Dreamscape Synthetic Grass & Pavers have been the leading providers of top-notch fences for private residences and commercial areas across Panama City Beach and nearby Florida locations. Call us soon so we can discuss with you the best fencing options that we can provide our clients with.
Quality Fencing Installation Guaranteed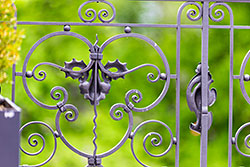 It's important to hire professionals who have previously worked on a lot of fencing projects to be assured of positive results. And experience-wise, our company has some of the most experienced and knowledgeable installers that you can possibly work with. Our crews are highly reliable since they have successfully completed hundreds of such projects in the past.
We can guarantee quality installation because of our highly skilled installers and builders, complete tools, and knowledge of the various fencing materials and their advantages. We never do guesswork but employ time-tested techniques and streamlined processes that allow us to work efficiently with outstanding outcomes.
Types of Fencing Materials that We Use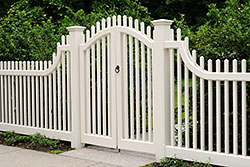 We have been one of Florida's authorities when it comes to the installation of fences in residential communities, private homes, and commercial areas. Accordingly, we are very comfortable working on fencing projects that involve the use of different materials. Among others, we can use vinyl, wood, aluminum, and custom ornamental metal (wrought iron).
These materials are available in a wide range of designs, sizes, and application to suit different specifications. Just let us know your target look and function, and we will recommend the perfect material to achieve the results that you have in mind.
The Right Fences for the Right Function
Our expert personnel can install fences for different areas or specific functions, like garden fences, pool fencing, perimeter or security fences, and the like. We have partner suppliers, so getting the appropriate fence type won't be a problem. Rest assured that you will only receive the perfect fences based on your project specifications so you can truly benefit from them.
We Have the Best Fencing Materials
Our company will only provide clients with top-notch fences to give them decades of benefits. Whether we're working on a small property or a fairly expansive one, we always use the finest quality materials that we can get.
When you hire us to work on your fencing project, we promise to create fences using materials that we source directly from leading suppliers. The structures that we install are 100 percent made of premium grade materials produced in facilities with strict standards. We're not like other contractors who use substandard fence materials just to make bigger profits. Our aim is to provide you and your family or clients a sense of security aside from beautifying your property and making it more functional.
Call us now at 850-258-3800 for any of your concerns.