Outdoor Fireplace & Fire Pit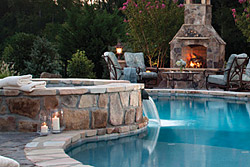 Winter is expected to be cold in Florida, but so is summer with its average of 14oC night temperature. Exceptionally cold weather invites families and friends to gather and share precious moments within the comforts of their homes. But finally, those precious moments don't have to be spent indoors.
Let us build you an outdoor fireplace or outdoor fire pit right in your backyard, and the intimate moments will surely be warmer. But, such amenities offer more than just warmth. They have practical uses, too.
Practical Uses of Outdoor Fireplace and Fire pit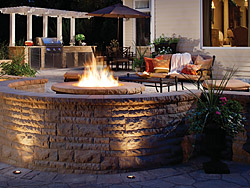 While indoor fireplaces are typically used for tee-a-tee moments, the outdoor versions are usually used for lively parties. Of course, the private conversation is also possible in front of the outdoor fireplace. In fact, the intimate conversation can be warmer and more romantic under starry summer skies. But, since it is outdoors, it's often used for gathering just like what the outdoor fire pit provides. You can also use the outdoor fire pit for cooking and roasting.
Additionally, an outdoor fireplace or a fire pit can be used as the elegant focal point of an outdoor living room or kitchen. Its size and normal structure allow limitless possibilities on the design - that's when our design and installation expertise become a very important part of the scene.
We Design and Install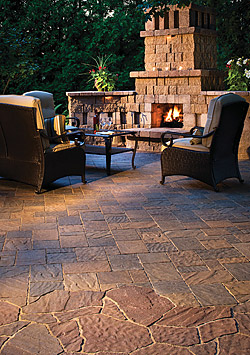 Why still hire Dreamscape Synthetic Grass & Pavers if there are hundreds of outdoor fireplaces and fire pits in the market? Such ready-made fixtures are marketed as if their installation is as easy as placing them anywhere you like. Unfortunately, such is not the case.
Installing them requires sufficient knowledge and training, since incorrect and unprofessional installation could lead to accidents. That is why Florida is very strict about its local rules and regulations regarding installation of such amenities.
Additionally, getting a pre-made one will also increase the likelihood that what you will be having is something very common. Your backyard deserves to be unique; and part of that is having an outdoor fireplace or fire pit that is specially designed for the area.
Our team can design the perfect outdoor fire pit or fireplace based on your aesthetic taste and practical preferences. We prefer using the best materials like bricks, natural stones, and high-quality irons so that the fixture can be enjoyed by generations to come.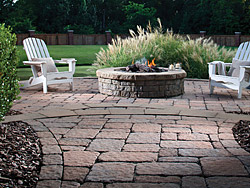 Other Amenities in the Outdoors
The outdoor fireplace or fire pit is only a part of a bigger picture. Outdoor fire pits are typically added near an outdoor kitchen and barbecue as an extra cooking feature or entertainment for guests. On the other hand, an outdoor fireplace is a good addition to an outdoor living room for ambiance. The fireplace also provides a beautiful irony to the cool spa or pool if it's installed nearby.
Should the area still needs finishing, then let us do the entire job to save time and money. Our company has been in the home and commercial space improvement industry for years. Call us for any landscaping needs - be it as small as an outdoor fireplace or fire pit, or as big as building a landscape from scratch.